You are here

Signs
Signs
Submitted by U.S. Wealth Oman on November 29th, 2018
By Gary R. Oman, CPA, PFS, MST
I don't know about you but I'm constantly scanning the road or highway as I drive. Mainly to monitor the cars immediately around me, paying careful attention to the stupid drivers that are on the road. And when I'm not monitoring the traffic, I'll check out the makes and models of some of the cars that catch my eye or look for signs along the roadside or overhead.
There are more and more of the electronic message signs, some overhead and some on the side of the road. Messages of all sort pop up such as detours, upcoming road closures, an amber alert, or traffic delays but I am not looking forward to reading the sign that says, "Snow storm tomorrow, keep your eye on the weather!"
Signs can be informative and useful, or not…
Here are a couple signs I've noticed recently that I haven't quite decided if someone is just having a little fun with us. Now, when you approach an exit ramp, if you have any difficulty deciding whether to go to the right to take the exit or stay to the left to remain on the highway, this sign will help!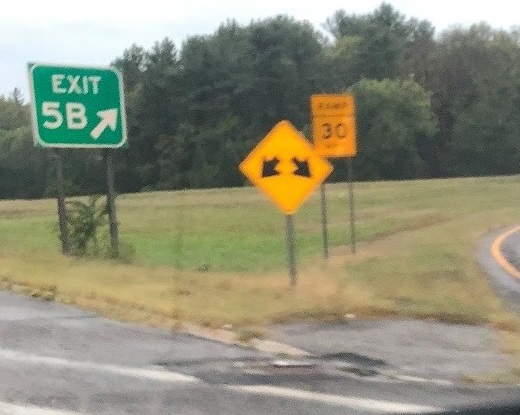 Next up is this sign.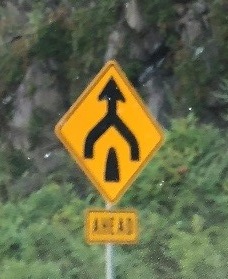 At first glance, I imagined a bear in the woods! But since there was no forest in the immediate area, I had to think a little harder. Obviously, as you look at this sign more closely, you will realize this is giving you advance warning that your lane will be merging with another lane to your right! Who knew? I didn't see anything wrong with the old merge sign that looked something like an upside down Y.
Then, of course, there are other types of signs, each with its own special meaning. They are beautiful, some big and some small, and sometimes double. They make you smile and/or cause you to reflect, however, these signs usually leave you happier after seeing one. Rainbows are everyone's favorite signs.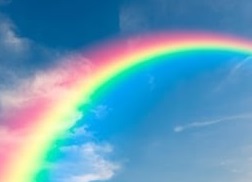 We all know what this sign means…or do we? Of course, this sign warns us to stop, usually at some kind of intersection.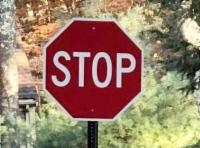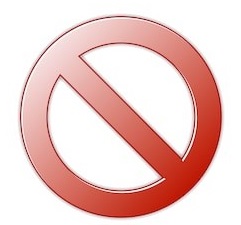 The second sign is an international stop sign and has the same meaning. If you stop, that is come to a full stop, at every stop sign you encounter, you are clearly the exception. In a recent experiment over a five-minute period, only six out of 21 cars came to a complete stop.
I guess I'm just curious about things. Some may impact my life and some are just interesting to look at or look into more closely. If you see a sign or some other curious sight or object feel free to share it.
Until next time…Gary
Article Tracking #1-797545