You are here

Remarkable People
Remarkable People
Submitted by U.S. Wealth Oman on July 22nd, 2019
By: Gary Oman
What do a firefighter, police officer, teacher, camera man, and administrator have in common?
I've been a member of the Brockton Rotary Club for over 20 years. Rotary is a global network of 1.2 million neighbors, friends, leaders, and problem-solvers who see a world where people unite and take action to create lasting change – across the globe, in our communities, and in ourselves.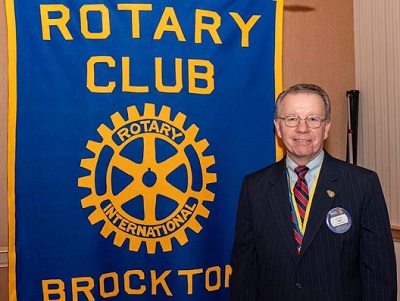 Photo Credit: Rich Morgan
At a recent meeting, these five aforementioned individuals were honored when they were presented the Brockton Rotary 2019 Public Service Awards.
Firefighter Charles Hayward, a Marine, has been the Commander of the Brockton Fire Department Honor Guard since 2013. The Honor Guard presents at all wakes and funerals of former firefighters, along with many other events throughout the year.
Officer Chris Perez, as a member of the Brockton Police Department provides community outreach to civilians by training and preparing them on how to survive active threat incidents while his full-time assignment is with the Traffic Enforcement & Control Unit. Officer Perez's other roles include Field Training Officer, Sexual Assault and Child Abuse Investigator, among others.
Jane Feroli has devoted 40 years to public education in Brockton teaching English and became the Parent Engagement Specialist. She motivated students to succeed by working with Parent Liaisons assigned to each school and organized the Parents' Academy Series, a program that brings together families, students, and community.
Jay Miller, an Air Force veteran, is the Director of Operations at Brockton Community Access Television where he assists volunteers and local non-profits in producing community television programming. Jay is the on-screen host of "One North Main", a newsmagazine program, where he takes a lighthearted and oftentimes humorous look at Brockton. He has also mentored children and young adults at the Boys & Girls Club of Brockton.
Ray Ledoux, husband and father, is the long-time administrator of the Brockton Area Transit Authority ("BAT"). Ray drove bus while attending UMass Amherst and upon graduation started working at BAT. After distinguishing himself right from the start, Ray quickly rose to leadership positions and later became BAT's administrator. Always finding time for others, he served many community organizations, including Boy Scouts, Metro South Chamber of Commerce, Brockton Area Workforce Investment Board, and Pilgrim Foundation.
Whether you or your organization is in a position to publicly recognize such special people as those introduced above, there will be a moment, an opportunity, for you to personally congratulate or thank that special person for something she or he did that made a difference in your or someone else's life. Please take advantage of that opportunity.
Gary
Tracking #1-874278