You are here

Memorial Day
Memorial Day
Submitted by U.S. Wealth Oman on May 24th, 2019
By Gary R. Oman
Memorial Day, originally known as Decoration Day, is celebrated on the fourth Monday of May each year. It is an American holiday honoring the men and women who died while serving in the U.S. military. Cities and towns hold parades and special observances and families often get together for cookouts. Memorial Day also unofficially marks the beginning of the summer.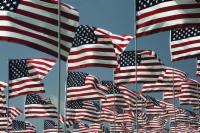 As a young kid, Memorial Day weekend was traveling with my sister and parents to Hideaway Village on Buttermilk Bay to open up our cottage for the summer. The weather was always sunny and warm, at least that's the way I remember those weekends.
Sweeping out the cottage and dusting the cobwebs, turning on the water and lighting the gas-fired hot water heater (Dad always took care of that…something about kids, matches and gas!) and the cottage was ready for the summer. Not so fast, I was reminded…it was a little more work than that to get the cottage habitable and comfortable…but memories about some things are short while memories about other things, like the beach and sand castles, swimming, fishing, digging for clams and quahogs, and, did I mention the sun, are very long!
Then there were your "summer friends", the Randalls lived next door and the Wegers lived behind the Randalls. Most of the kids that lived in these two cottages were older than I was but not that much so we "hung out" together each summer until they went off to college and I wouldn't see them very much over the summer. The Randalls lived in Easton, a town right next to Brockton where I grew up, and the Wegers lived in Norwood, a little further away. Yet, our families never got together in between summers for some reason, so when summer rolled around again, it was great to be able to catch up with my special summer friends once again.
My understanding of Memorial Day and the significance of the holiday has changed over the years from simply being the first weekend of the summer on the Cape to its celebration and remembrance of those brave men and women who died while serving in the U.S. military to ensure that even now, we can enjoy this great country and the freedom and opportunities provided to us.
Best wishes to you and your family for an enjoyable Memorial Day weekend.
Tracking #1-856760