You are here

Ladies Night
Ladies Night
Submitted by U.S. Wealth Oman on December 28th, 2018
By: Amy S. Oman
In 2000, nineteen Christmases ago, my Mom planned a get together that turned into an amazing tradition called, Dianne's "Ladies Night" – and it's one of my favorite nights every year!
It all started after my Grammie (Barbara, my Mom's Mom) and some of her dear friends, who were also widowed and other friends that got together, started to become more a ladies group than couples. My Mom, being the thoughtful, caring person she is, planned a special Ladies Night for Barbara and a few of her friends. You know, something small at my parents' home, sitting in the living room by the Christmas tree, chit chatting and enjoying each other's company. My Mom does an outstanding job decorating her home for Christmas and her Mom LOVES it so much, so having the Ladies over for a night was the perfect idea!
One might think that the 'older generation' would leave early to get home to put on their 'nighty' (as my Grammie calls it), but not these ladies, the stayed until after midnight! In fact, my Mom's friend Gail's husband commented to her, "I thought you were going to be home early last night" –she replied, "I did too, but I couldn't leave before Barbara did"- lol!!
The ladies loved it so much, that my Mom has continued to host Ladies Night every year since then and each year brings a new twist (theme) and new faces to the group which typically range from 30-40 ladies! There is one person that especially LOVES dressing the "theme" for Ladies Night and that is my Auntie Debbie (my Mom's sister)! The anticipation of seeing her being her creative self (her vision as she calls it) gives me so much joy! Her vision and my Mom's vision are…..let's say, different and unique!!
Themes over the past nineteen Ladies Nights were:
2000 – Tea Party Chat Night
2001 – Cookie Swap
2002 – Homemade Christmas Ornament Swap
2003 – Pot Luck Dinner and Yankee Swap
2004 – Chinese Swap
2005 – Wrapped Christmas Decoration for a Swap
2006 – Pajama Party
2007 – "Santa Clues is Coming to Town"
2008 – The Price is Right with Dianne Oman
2009 – Hollywood Red Carpet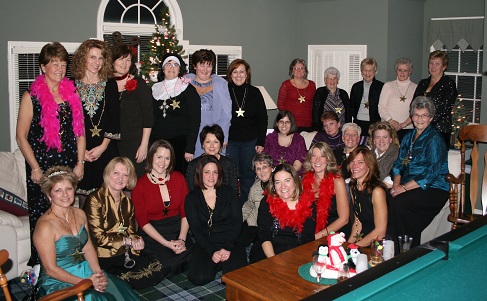 2010 – Ugly Sweater Party
2011 – Christmas in July with an Auction
2012 – Santa and his Elf provide a hay ride to Bridgewater Fire Department to deliver toys for "Operation Santa"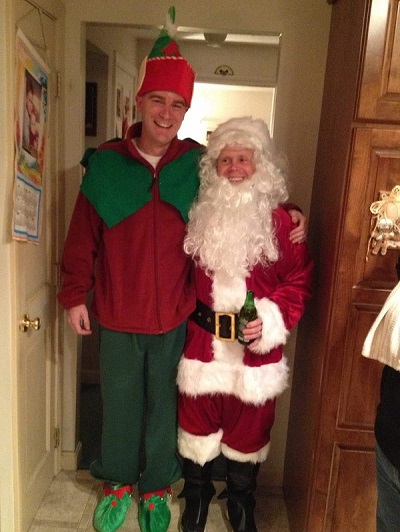 2013 – Purse Party – no purchasing of purse just bring one for a game
2014 – Mentalist
2015 – Choose to wear Pajamas or your Ugly Sweater
Ugly Sweater Family vs Pajama Family in a game of "Family Feud"
2016 – Magic Show by Eric
2017 – Hat Party – no Yankee Swap or Operation Santa. One of our ladies, Shirley, passed away and Dianne collected
donations to give to her church in her memory.
2018 – Christmas Outfit – Classic or Crazy you decide
Each year that we didn't have a swap of our own, my Mom asked the ladies to participate in Bridgewater Fire Department's "Operation Santa" which helps those less fortunate in the town bring some holiday cheer to their children. The ladies bring an unwrapped gift and place it under the tree – my Mom delivers it to the Fire Station the next day.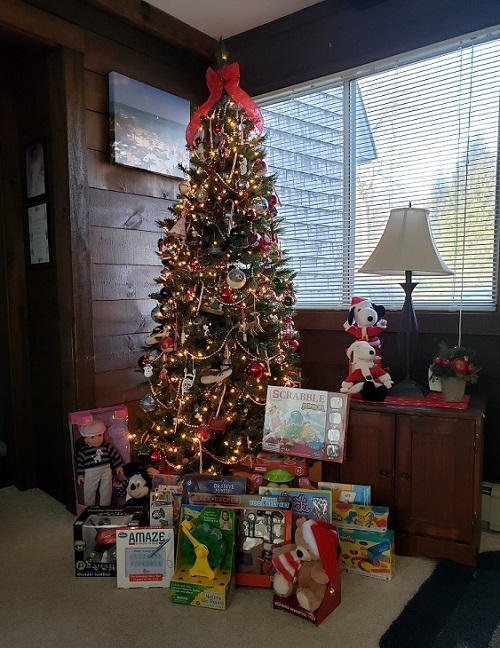 As you can see, Ladies Night is a very special night and ages range from 18 or so to, this year, my Grammie at 92 years old! Wonderful holiday traditions that everyone looks forward to!
I wonder what Dianne has up her sleeve for the theme for our 20th year next December!!
Cheers,
Amy O
Tracking #1-806372