You are here

Holiday Season at Our New Office
Holiday Season at Our New Office
Submitted by U.S. Wealth Oman on December 14th, 2018
By: Amy S. Oman
It's been just six months since Gary and I moved to our new office in Braintree which is US Wealth Management's (USWM) home office, and I absolutely love it here! I continue to say, "Happy Friday" or whatever day it is as I walk in. My commute might be longer, but the office is bigger and brighter and the views out the huge windows are wonderful.
Being able to interact with our USWM team every day instead of emailing or calling them is much nicer, in fact, now I can just walk over to Michelle and Tomoko in operations or Camy in marketing or anywhere else when I have a question. Our team is filled with a lot of intelligent and enthusiastic individuals who are supportive and personable in all ways - - - especially keeping me laughing and on my toes!
Just this week, Michelle (aka coupon lady) was giving away two Christmas tree skirts that she had bargained-shopped for. Joan thought she would try one out (around her waist) before putting it around the bottom of the tree in the reception area! So I thought I would join in on her holiday spirt and put one over my head and onto my shoulders, and, of course Camy was there to document it all! See, I'm sometimes in front of the camera too!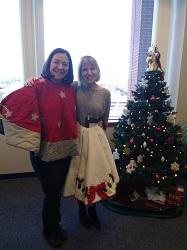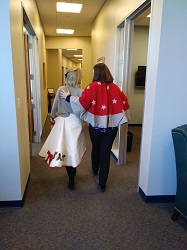 All in all, it's great to feel like we are at home in our new space with our USWM family!
Cheers!
Amy O
Tracking #1-802122