You are here

Gratitude
Gratitude
Submitted by U.S. Wealth Oman on April 12th, 2019
Gratitude
By: Gary R. Oman
As Easter approaches, it seemed to me that this would be an opportunity to express my appreciation. Sometimes, in passing, we reflect on people or acts of kindness or other things, saying, "that was thoughtful or that was nice". Those are good thoughts but sometimes more is better.
I would be remiss, if I didn't first thank Dianne, my wife of forty-seven years this year, and express my gratitude for her friendship, her companionship and her support throughout these almost five decades. She played such an important role as we raised our three children and continued that roll as she played with and had a blast teaching our first four grandchildren. Now, she has reprised her roll as playmate and teacher with our newest granddaughter Taylin who is fifteen months old now and is such a joy to hang out with!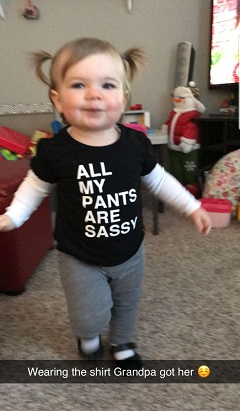 There are so many others whose friendships and relationships I very much appreciate. I'm trying to be very careful to not slight any of you and the following are in no special order.
This list includes family, friends (new and long-time), clients, colleagues and business associates.
Friends are the people who don't judge you, laugh at your corny jokes, are fun to be with, listen to your long-winded stories, and still ask you if you want to get together next weekend! You know, family is like that too, but they have to be like that because they're family!! Thank you family and friends!
A big thank you to my clients, many of whom I've had the privilege and pleasure to have had a relationship with for well over 40 years. They've been through mergers and a reorganization and my move to Braintree after 46 years practicing in Brockton. Thank you!
I appreciate the support of my partners and colleagues at U.S. Wealth Management, especially in our Braintree office where Amy and I received such a warm welcome last June when we had to leave our former office in Brockton.
All in all, life is pretty darn good! I have many great stories about you all. And, now with my longer commute to Braintree, I often think about those stories and smile which keeps me from gritting my teeth (or saying something outloud!) at the stupid drivers I encounter on my commute each day!
THANK YOU! I appreciate and value our relationship. Have a great weekend everyone!
Tracking #1-842602