You are here

The Beach In November
The Beach In November
Submitted by U.S. Wealth Oman on December 7th, 2018
By Gary R. Oman, CPA, PFS, MST
Many of us like to go to the beach whenever we can. Right Chrissy? Dianne and I had an opportunity to go to the beach last week, specifically West Palm Beach!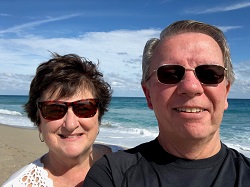 As you might expect, Florida weather this time of year can be iffy. Good news was, we had no rain. Additional good news, the temperature did not go below freezing. However, the first couple days of our vacation and the day we came home, the temperatures were in the 80s, while the days in the middle were challenging with temperatures ranging from the middle sixties to the middle 70s (after a couple early mornings in the 40s) and partly to mostly cloudy. Not exactly sun-yourself-on-the-beach-kind-of-days but pleasant enough.
Marriott Ocean Pointe is a timeshare and we have owned there since 2000. As you can see from some of the pictures, Ocean Pointe is located right on the beach. It has two swimming pools, hot tubs, a play area with water fountains, etc. for the kids, and On The Rocks where you can order lunch and, of course, your favorite drink and breakfast on Friday – Sunday. There are also miniature golf, shuffle board (kids play it too) and bocce on premises to help fill in your day.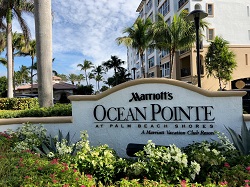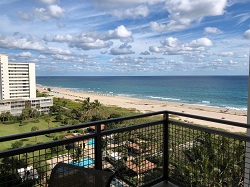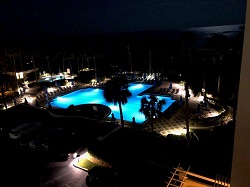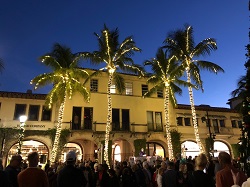 Dianne's brother George and his wife Brenda live in Vero Beach, about a one and a quarter hour's drive north from Ocean Pointe. We visited with them on Saturday and Sunday before driving down to West Palm Beach. Now, George and I graduated from Brockton High together so I have him to thank for "letting me date" his younger sister.
Dianne loves to decorate for all the holidays, especially Christmas! She has cut back this year, so we now have only three fully-decorated Christmas trees in our home!! George and I lucked out last week, we got to watch the Patriots beat the Jets while Dianne helped Brenda decorate their Christmas tree. Later that week, George and Brenda came down to visit us on Thursday and we enjoyed lunch at the Sailfish Marina, dockside and in our shirtsleeves, under a reasonably warm Florida sun.
West Palm Beach is not Aruba but it is a really nice place to vacation. For us, we got to see George and Brenda a couple times while we were there. We did get to relax on the beach a few times, got in some walking, ate out at some good restaurants, and attended the Christmas tree lighting ceremony on Worth Avenue. All in all, a very nice get away.
Until next time…Gary
Tracking #1-799542